This in one of my favorite tarts for entertaining in August and September. Fresh heirloom tomatoes are in abundance, especially in Prince Edward County. I grow nine different varieties each year in my raised beds. Consider different shapes, sizes and colours to create amazing salads and this special French Tomato Tart. Top the tart with some basil leaves for extra colour and serve in thin slices during the cocktail hour. For presentation, serve on a large board with and slice in front of your guests. It's always a crowd pleaser for all ages. The tart is also great for brunch, served with a fresh green salad.
Note: When I refer to puff pastry sheets, I'm talking about President's Choice Puff Pastry from Loblaw or No Frills. You get two in a box.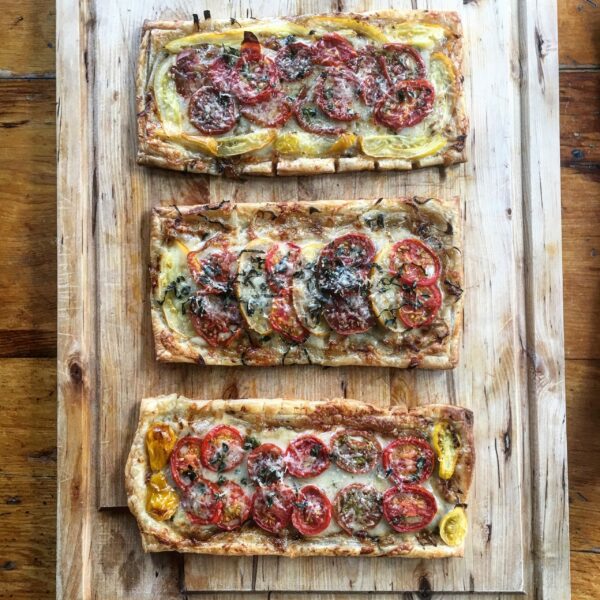 | | |
| --- | --- |
| | |
Preheat oven to 425 degrees.

Place puff pastry on a board and cut into two. Place rectangles onto a baking pan lined with parchment paper. Around the edges, slightly score with a knife. Brush on 2 tablespoons mayo on each piece of pastry. Place back in the fridge, uncovered.

In a medium sized pan, heat the oil and sauté the onions with the salt till golden brown – 10 to 15 minutes (the longer the better). Add in the garlic and cook a further minute. Remove from pan and cool on a plate.

Prepare the remaining ingredients. Slice the tomatoes. Shred the Gruyere cheese and prepare the thyme leaves. Melt the butter.

Remove the tray of pastry from the frig. Evenly distribute the caramelized onion mixture on top of the mayo and sprinkle the cheese on top. Arrange the tomatoes overlapping down the middle of each pastry. Sprinkle with thyme. Brush the edges with the melted butter and drizzle the remaining on top of the tomatoes.

Place in the freezer for 5 minutes, or place in your frig till your are ready to bake.

Bake for 15 to 18 minutes, or until pastry is puffed and golden brown.

Remove from pan immediately and place on a serving board.
*Thaw puff pastry sheet in the frig overnight.