A delightful refreshing and spice flavoured ice cream that will become the hit of the summer with your family and guests. Serve it on its own or with some fresh summer berries. Jennifer Commins, Owner of PLUCK tea in Toronto was recently at Maison Maitland, and we had a lot of fun collaborating on this tea infused summer treat.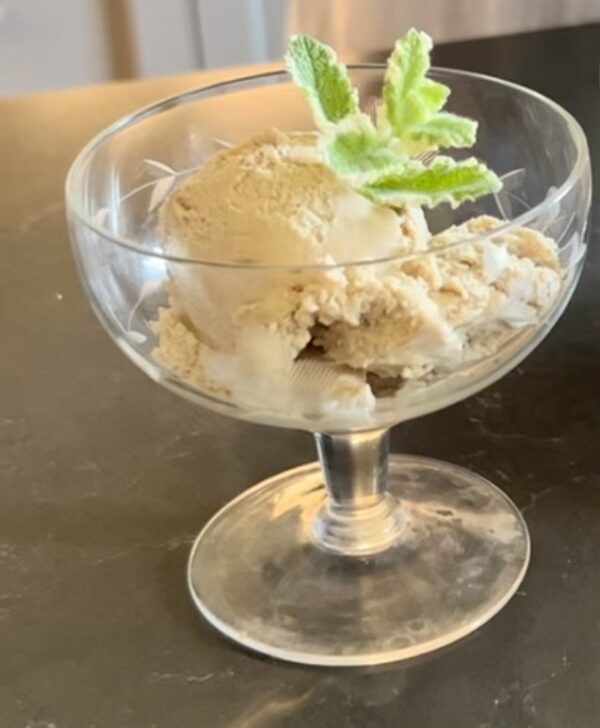 | | |
| --- | --- |
| | |
You can heat the cream directly in a pot over the burner, but for a safer outcome, heat water in a double boiler or a medium size pot that a bowl can fit comfortably on top.

Pour the cream into the top pot and heat the cream on low heat. Add the tea and stir and let simmer for 20 minutes. Strain the tea leaves and pour the mixture back into the pot.

Whisk the maple syrup and egg yolks in a bowl and add a bit of warm cream to temper the eggs. Slowly pour the warmed egg mixture into the large pot of cream and stir gently. Cook till it coats the back of the spoon and slightly thickens. About 5 minutes. Do not leave the pot and continue to stir the entire time during this stage.

Pour the warm custard into a glass bowl, let cool to room temperature. Cover and place in the fridge for at least 6 hours, preferably overnight.

Place the frozen ice cream cylinder in your maker (or as per ice cream maker's directions) and pour in your custard mix and let it churn till custard becomes solid. Place the soft ice cream into a container, cover and put it in the freezer for at least 3 hours before serving.