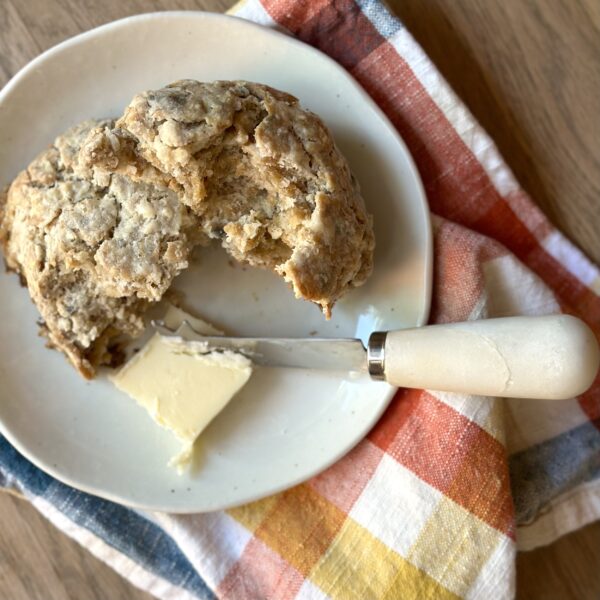 | | |
| --- | --- |
| | |
In a saucepan, bring the water to a boil, add the loose tea, mix, turn off the heat and let steep for 30 minutes. Whisk in the cold sour cream. Pour into a bowl and place in the fridge for 10 minutes.

In a large bowl, combine the flour, sugar, baking powder, soda, and salt, Mix and massage the cold cubes of butter quickly with your hands or fork till the mixture looks lumpy with large peas. Do not over mix. Remove your sour cream tea infused liquid from the fridge and whisk in the eggs. Pour the mixture into the dry and stir only until the mixture is barely incorporated.

Place the mixture on a lightly floured surface and pull together with your hands to create a very loose ball. Pat down gently to form a square. With a knife, make 9 large squares

(about 3"x 3" x 3/4"thick). Place biscuits on a lined baking sheet an inch or two apart.

Place the tray uncovered in the fridge to chill and rest for at least 25 minutes.

Remove the baking sheet from the fridge and brush each square with cream. For a little kick of sweetness, sprinkle with some course sugar.

Bake till golden brown on top (about 30 minutes). Cool briefly on a rack. Enjoy with some butter and a cup of PLUCK tea!