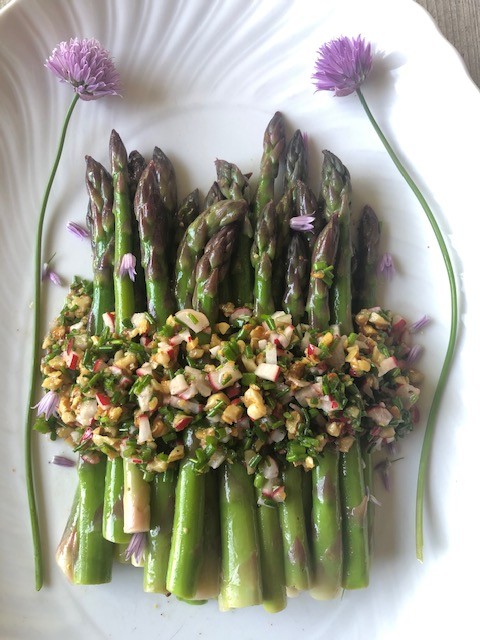 | | |
| --- | --- |
| | |
Wash and trim the asparagus. Prepare a large bowl of ice-cold water and keep near the stove. In a pot of salted boiling water, place the asparagus and blanch for 90 seconds. Remove with tongs and place in the cold water. Let sit for 30 seconds. Lift and place the asparagus on paper towels in a single layer to drain.

In the meantime, make the vinaigrette. Place all the ingredients in a mason jar and screw on the lid tightly. Shake really well.

Place the asparagus on a large plate. Drizzle with 4 tablespoons (or more, depending on the volume of asparagus). Toss and make sure all spears are coated. Cover with plastic wrap and let sit marinate in the fridge for at least 1 hour.

For the crumble, chop and toast the walnuts in a medium hot, dry pan. Watch carefully. When done, remove and place on a plate to cool. Chop the radishes and chives, and place in a small bowl.

When ready to serve, place the asparagus in a neat pile on a serving platter add the toasted walnut pieces to the radishes and chives bowl and add 2 tablespoons of the dressing. Mix well and sprinkle on top.
Note - The vinaigrette is good in the fridge for a couple of weeks. Shake well before each use.