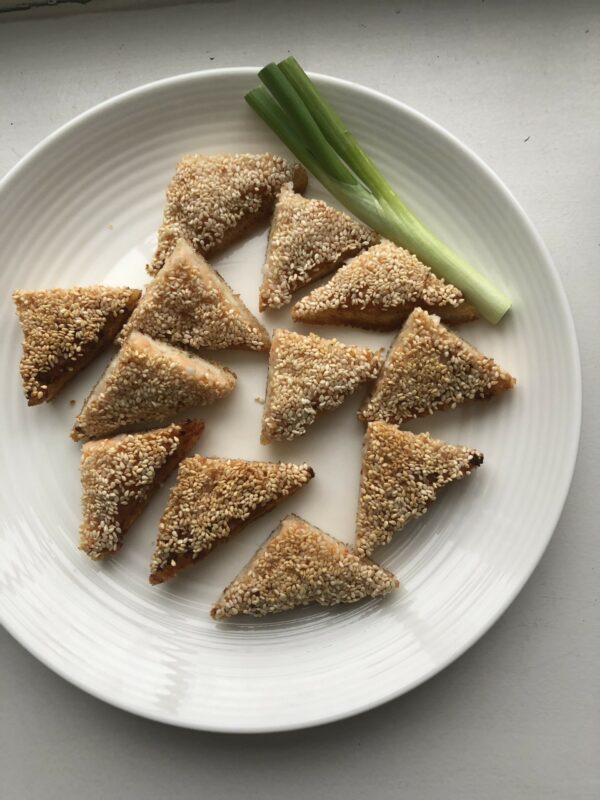 | | |
| --- | --- |
| | |
Peel, clean and devein shrimp. Place shrimp in a food processor and pulse a few times just until it becomes a smooth paste. Transfer mixture to a bowl and stir in the garlic, sriracha, fish sauce, lemon juice, tapioca starch, pepper, oil and onion. Cover and refrigerate for 30 minutes.

Place sesame seeds on a piece of parchment paper. Spread shrimp mixture (minus one tablespoon) over entire bread slices. Press bread, shrimp side down, into sesame seeds to coat. Set aside.

Pour oil into a large skillet (around 11 inches) with deep sides and heat over medium-high. The oil is ready when you can drop a piece of shrimp mixture into the oil and it sizzles. Fry the bread, shrimp side down, until golden crisp, about 2 minutes. Watch carefully and check often. Turnover the bread and cook until golden crisp on the other side, about 1 minute.

Carefully transfer the toasts, shrimp side up, to a wire rack with paper towel, let rest for 2 minutes. Place on cutting board and cut each toast into quarters (triangle) with a serrated knife. Serve immediately.