Who doesn't love a crispy wing!  These ones are baked and packed with bursts of Asian flavors. My husband told me that they were the best wings he ever tasted. They can be whipped up the night of, but best if you can marinate the wings and get them in the fridge the night before or the morning of. Don't be put off with the amount of fish sauce. It is well balanced with the other ingredients and necessary to provide the overall flavor experience. For the garnish options, the crispy shallots are key and worth the effort and the leftovers are super on a salad. The extra crunch of the wings are possible because of the crushed corn flake crumbs. Crunch your own or best, buy them at your grocer. This is one of those recipes you shouldn't try to substitute ingredients!
I like serving this dish with a vinegar based coleslaw. It cuts the fat of the wings and balances the overall meal. Hot sauce on the side is always welcomed, but not required if you have the red chili. Enjoy!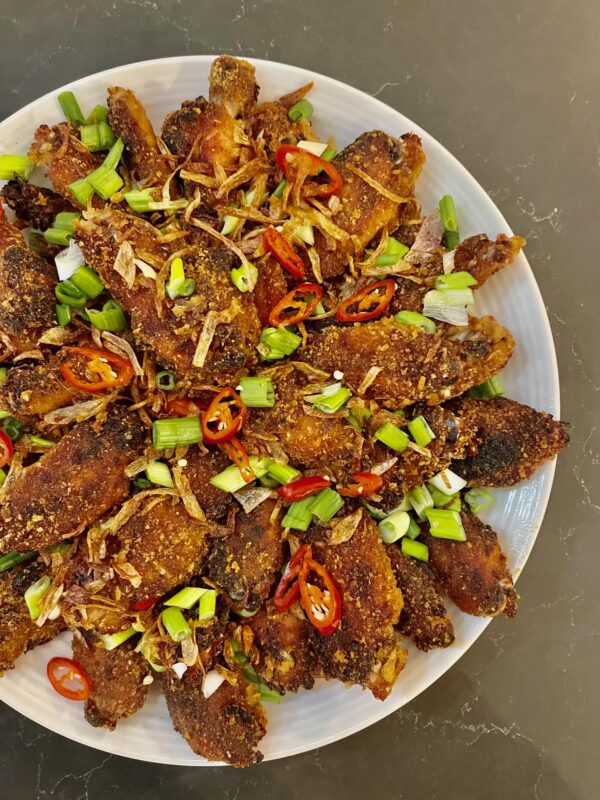 | | |
| --- | --- |
| | |
Cut the wings into 30 pieces and place in a bowl. In another bowl, whisk together the marinade ingredients. Pour and massage the marinade into the wings. Cover and place in the fridge for a minimum of one hour, several hours or overnight is even better.

Preheat your oven to 425F. Remove the chicken wings from the marinade and place on a few layers of paper towel to remove the excess marinade. On a piece of parchment paper place the corn flake crumbs and salt and mix. Roll each wing in the crumb mixture and place on a lined baking sheet. Bake in the oven for around 40 minutes or until crispy.

In the meantime, prepare the crispy shallots and toppings. For the crispy shallots, place the oil in a pot and gently simmer the shallots over medium heat till golden (about 30 minutes).

Scoop out with a slotted spoon and place the shallots on paper towel to drain. Filter and reserve the oil for marinades and dressings.*

Remove the wings from the oven and let sit for 5 minutes. Place on a platter and garnish.