Homemade Chicken Pho is one of the best winter soups. It has a clear, clean broth full of nutrients, fresh herbs and is gluten free. A comfort food for all ages. I prefer to use organic chicken, as it gives a richer and cleaner broth. Bonus, you'll have lots of extra shredded chicken! Perfect for salads or wraps the next day.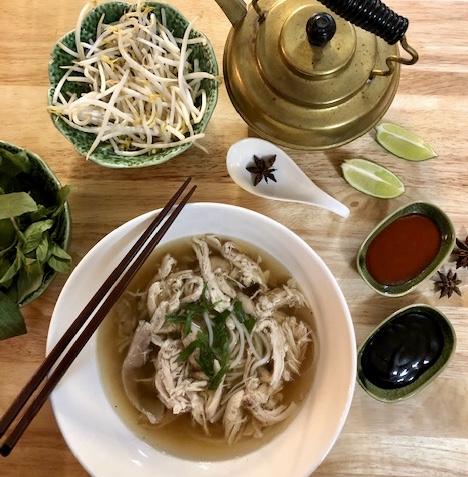 Broth :Over medium high heat, place the all the ingredients for the broth in a large pot. Bring to boil then simmer, cover partially and cook for about 2 hours. Skim off any fat and foam and discard. Remove the chicken and place in a bowl to cool. Strain the broth (discard the solids) and return the broth to the pot. Taste and adjust the seasonings. Keep the broth warm.

Note: If you have the time, best to do the broth and chicken the day before. Cool everything cover and place in the fridge. Bring out the pot of stock and reheat on the stove while preparing the soup ingredients.

Soup: Remove bones and skin from the chicken and discard. Shred the meat with your fingers. Set aside on a plate. Note: There will be lots of meat left over for another dish. Perfect for a chicken salad the next day.

Place the noodles in a stainless steel bowl. Heat a few cups of water on the stove (low boil) and pour over the noodles. Soak the noodles for around 20-30 minutes till soft, but still a bit firm. Keep checking as it depends on the thickness of the noodle. Remove from the water, divide into four and place in the large individual soup bowls.

On top of the noodles, place around a half a cup of shredded chicken, or more if you like, plus a portion of the sliced white onion and a bit of the sliced green onion. Pour the hot broth on top, around 2-3 cups per person. Finish by adding a few more pieces of green onion.

Garnish: Put the garnishes and sauces in separate bowls and place on the table for your guests to add on their own.