I was first introduced to this syrup by heritage volunteer cook, Nancy Woods from our local museum, Macaulay House. She was kind enough to share her prized recipe with me. I've adapted it to make it a less sweet and incorporated local maple syrup and honey.
This classic rhubarb cocktail syrup mixed with some sparking water and a splash of vodka or gin makes this drink a real winner, or enjoy it with some soda for a refreshing non-alcoholic beverage.  The pink color also makes it a welcoming drink when your guests arrive. Rhubarb is usually in season in Ontario till the end of June. Use fresh when you can, frozen can work too if you have a craving to make it all year around. This syrup will last in your frig for many weeks. That's if you can keep it that long!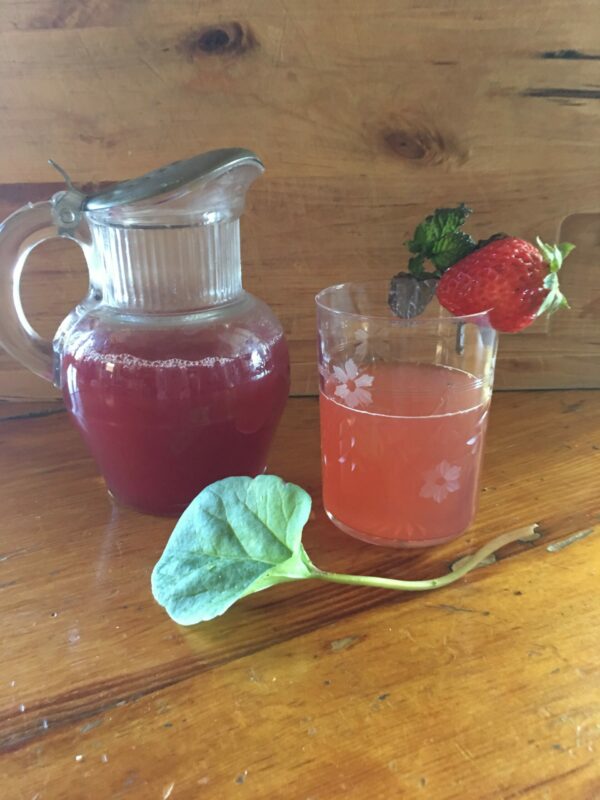 Prep Time

1 hour

15 minutes
Prep Time

1 hour

15 minutes
In a large pot, place the rhubarb, lemon and water and bring to boil. Reduce to a simmer and cook till tender.

Place another large pot on your counter that can cradle a colander. Set a large piece of doubled cheesecloth inside the colander, and place on top of the opening of the pot. Carefully pour in the rhubarb and liquid mixture from the stove, a few cups at a time to prevent splashing.

Let it drain for 1 hour, occasionally pressing the fruit along the way to extract as much liquid as possible. At the end of the hour, grip the cloth into a small bag and squeeze the excess juice from the fruit.

Place the pot with the rhubarb juice on the medium high heat and add in the maple syrup, lemon juice, honey and sugar and bring to boil. Reduce heat to a gentle boil and reduce liquid by one quarter, about 30 minutes.

Cool and then place in containers and cover. Mason jars work well.

For non- alcoholic rhubarb cocktails, take two cups of syrup to 2 liters of carbonated water or club soda. If you want a sweeter drink substitute with ginger ale. Garnish with a sprig of fresh mint.