Don't let the pretty color fool you. Depending on your heat tolerance, it can be extremely hot (it will be for most people). You'll just need a touch to add to other sauces to give it the punch you desire. If you dare, try it on its own drizzled over grilled chicken or shrimp. A few drops would also be super in a Caesar cocktail. This Caribbean inspired hot sauce is so versatile, you'll want to always have a jar handy in the refrigerator!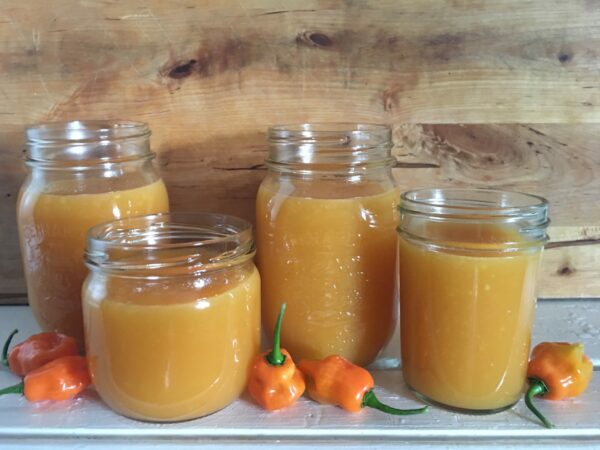 | | |
| --- | --- |
| | |
In a food processor bowl, add habanero peppers (whole peppers minus the stems) garlic, shallots and carrots and process until finely chopped.

Add vinegar, honey, and lime juice. Process until very smooth.

Pour the mixture into a medium pot, add the water and salt and bring to a boil. Reduce heat and simmer about 20 minutes.

Puree the sauce by pressing through a sieve to remove all solids. Return to the pot. In a small bowl mix the corn starch with water and add to the simmering mixture. Stir.

Cook about 10 minutes to thicken a bit. Puree the mango in a food processor till liquid and stir into the sauce. Pour into a large glass bowl to cool.

Pour sauce into glass bottles with lids, but don't seal till fully cooled. The sauce will keep for a few weeks in the fridge.
Caution. It's really hot!