This Paella recipe is a great gluten free crowd pleaser for your holiday entertaining. You can make a few  versions to satisfy all your guests. I love  my shrimp and chicken version, but if you are a meat lover, you can add some cooked sausage or chorizo (at the stage of adding the chicken back in). For a vegan alternative, substitute cauliflower for the chicken and roasted red pepper for the shrimp. And if you want some heat add a few hot peppers at the stage when you are cooking the onions and garlic. Always remember to taste your dish before you remove it from the pan to plate – you might want more salt or pepper.  Serve with a slightly chilled fruity red! I would suggest a new Gamay from one of our local wineries,  Domain Darius's  Nouveau (a great take-off of Beaujolais Nouveau but better!) Happy Holidays!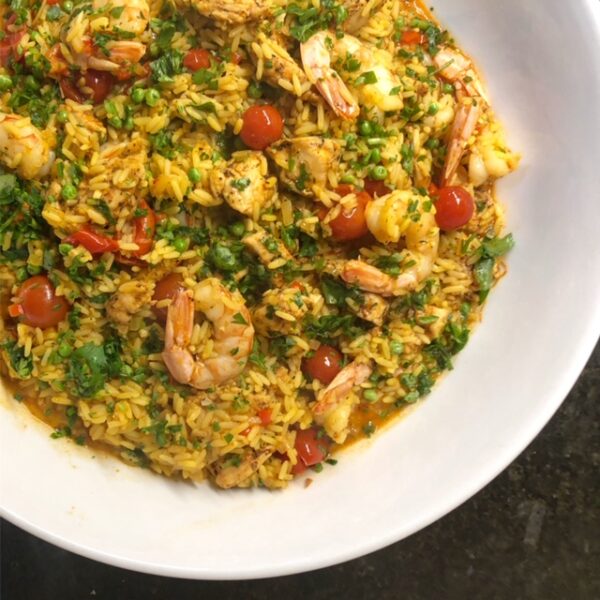 | | |
| --- | --- |
| | |
Cut the chicken into bit size pieces and place in a bowl. Drizzle with olive oil and sprinkle with paprika, oregano, salt and pepper. Let sit for 15 minutes minimum or overnight in the fridge.

Clean the shrimp and set aside in a bowl. Prepare the rest of your ingredients and place them beside your cook top. Warm the broth in a pot on low and sprinkle saffron on top to infuse.

Now for the main cooking - Heat a large, deep frying pan over medium heat and add one tablespoon sunflower oil. Sauté chicken till nearly done (about 2 minutes). Set aside on a plate. In the same pan, add onions and garlic and sauté will soft, about 3-4 minutes (add more oil if needed). Add rice and coat with all ingredients and cook about 3 minutes, constantly stirring. Make sure everything is well coated, add a bit more oil if needed. Add tomatoes, salt and pepper. Add warm broth (a cup at a time) and cook for 10-15 minutes, uncovered and stirring constantly on simmer. At this point, rice should be just about done.

Place the chicken and the raw shrimp in the rice mixture. Stir to incorporate. Cover and cook on low for about 5 minutes, then add raw peas. Check to make sure all the broth has been absorbed. Let rest for 5 minutes, partially uncovered. Taste and adjust seasoning. Plate and sprinkle with parsley and serve with lemon wedges.