'Tis the season for comfort food and what better way to warm up but with some Italian gnocchi. While I love the traditional potato gnocchi, this Ricotta Gnocchi can be made in minutes and is a great quick dinner for weekdays. It can be made for one, two of four + people, making this a fabulous dinner, no matter how many people are sitting at your table. I prefer to use whole fat ricotta and if you are lucky enough, a number of specialty cheese shops offer fresh artisan ricotta or sometimes known as fresh cheese.
The foundation is a simple ricotta gnocchi, but be adventurous and add in some fresh herbs, like basil or chives. Sauces can vary too. The one I'm suggesting in this recipe is Pancetta & Onions, but a great substitute on the same technique could be Mushroom & Onions. And, if you prefer a tomato sauce, cook the gnocchi as instructed below, but then gently poach the gnocchi in the tomato sauce.  The sauce should be in a large frying pan simmering beside you large pot of boiling water. Simply place the cooked gnocchi in the sauce for about a minute to absorb some of the sauce, do not stir.
Once complete in whatever sauce you choose, gently slide the gnocchi from the pan to a large platter or dinner plate. Parmesan is my preferred finishing cheese, but Grana Padano or Pecorino are also delightful. Chopped fresh herbs on top are also a nice finishing touch. Enjoy with a glass of medium body red wine. A Prince Edward County Gamay or Cab Franc are a perfect pairing.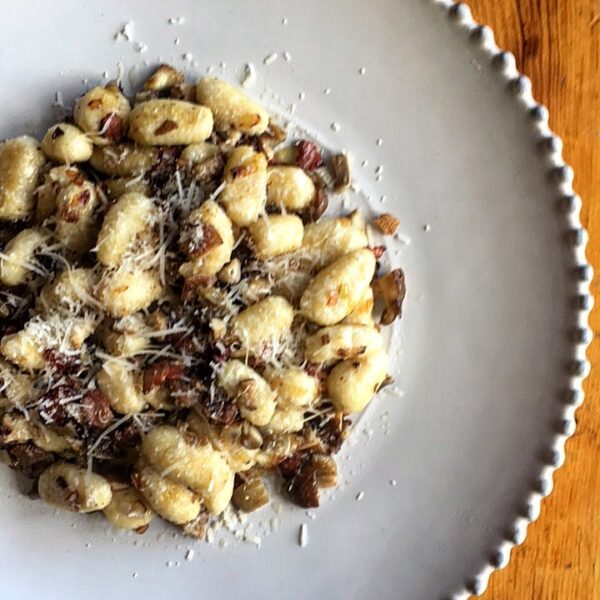 | | |
| --- | --- |
| | |
If there is liquid in the container, drain the ricotta cheese with a strainer over a bowl before using.

Combine the ricotta, grated cheese, flour salt and pepper in a large bowl. Mix quickly together with hands until it forms a ball. DO NOT overwork. Pretend that it is hot to the touch. Add a little flour if too sticky. Break out into four balls. On a lightly floured surface, roll into ½ inch thick ropes and cut into 1-inch pieces. Gently roll into small balls on a gnocchi board or on the back of a fork with small tines, and gently push and let each piece slide off. This will give you the traditional oblong shape.

Place the finished gnocchi on a baking sheet lined with floured parchment paper. Let rest, uncovered, in a fridge until ready to cook – at least 15 minutes.

In the meantime, make the sauce......

In a large fry pan over medium heat, cook the diced pancetta till crisp. Remove from the pan and place on a plate with paper towels. Keep one teaspoon of fat in the pan.

Reduce the heat and add in the garlic and onions and cook for 5 minutes till soft and lightly golden. Keep warm.

Back to the cooking the gnocchi......

Bring a large pot of salted water to a boil and place the gnocchi, about 25 at a time, in the water. When they rise to the top, (only a couple of minutes), they are cooked. Remove with a slotted spoon and place in the frying pan with the onion and garlic.

When all the gnocchi are in the pan, sauté the till lightly golden. Add in the bacon and cook for a further 2 minutes. Add in the butter, swirl the pan and gently slide the contents onto a platter or plate and garnish with grated cheese.